A Year In Review
10th January 2022

Erin Lynch
First and foremost, a happy 2022 to you all! We hope you've entered the new year feeling restored and excited.
As the curtains closed on 2021, star-studded sci-fi satire 'Don't Look Up' was released onto streaming platforms. If you haven't seen or heard about it yet, the movie follows two astronomers (played by Leonardo DiCaprio and Jennifer Lawrence) who are desperately trying to convince indifferent world leaders to do something about the asteroid on course to destroy the planet. It's been described by scientists and environmental activists as 'a parody of our inaction' on the climate crisis, and a 'striking and evocative account of how one experiences a world that is grappling with the climate crisis.
Of course, the main difference between a world-destroying asteroid and the crisis on our hands is that the climate crisis has already arrived. Extreme weather triggered by global warming, alongside widespread habitat and biodiversity destruction and toxic pollution, destroyed the lives of millions of people across the world last year, and we're on course to witness even more destruction this year. Our task is not just to prevent destruction and preserve what we have, but also to restore that which has been lost and generate new ways of living. This is immensely complicated, and involves not only petitioning world leaders, but changing our lives, communities, our agricultural and economic systems, infrastructure, and much more.
This month's blog features some of the major developments across our key issue areas last year, alongside examples of some of the impactful and inspiring work that's been undertaken by Tythe portfolio charities over the past year. The ingenuity and persistence of these organisations and individuals is an ongoing source of inspiration to us, and we hope it is for you too.
Reimagining Carbon
2021 was a landmark year for efforts to curb emissions. Carbon removal won its first dedicated line in the US President's Budget — reflecting the growing acknowledgement by world leaders of the urgency of the climate crisis. New records were set for private investment in carbon removal with Solugen, a decarbonizing chemicals company raising $357 million, and Elon Musk announcing a new $100 million carbon removal prize.
The Clean Air Task Force had a significant year. In 2021 their efforts helped push over 100 countries to sign onto the #GlobalMethanePledge at COP26 and commit to reducing their collective emissions by 30% by 2030. The CATF #CutMethaneEU campaign highlighted methane leaks at oil and gas sites across Europe, impacting the EU's proposed #Fitfor55 legislation to cut emissions by at least 55% by 2030.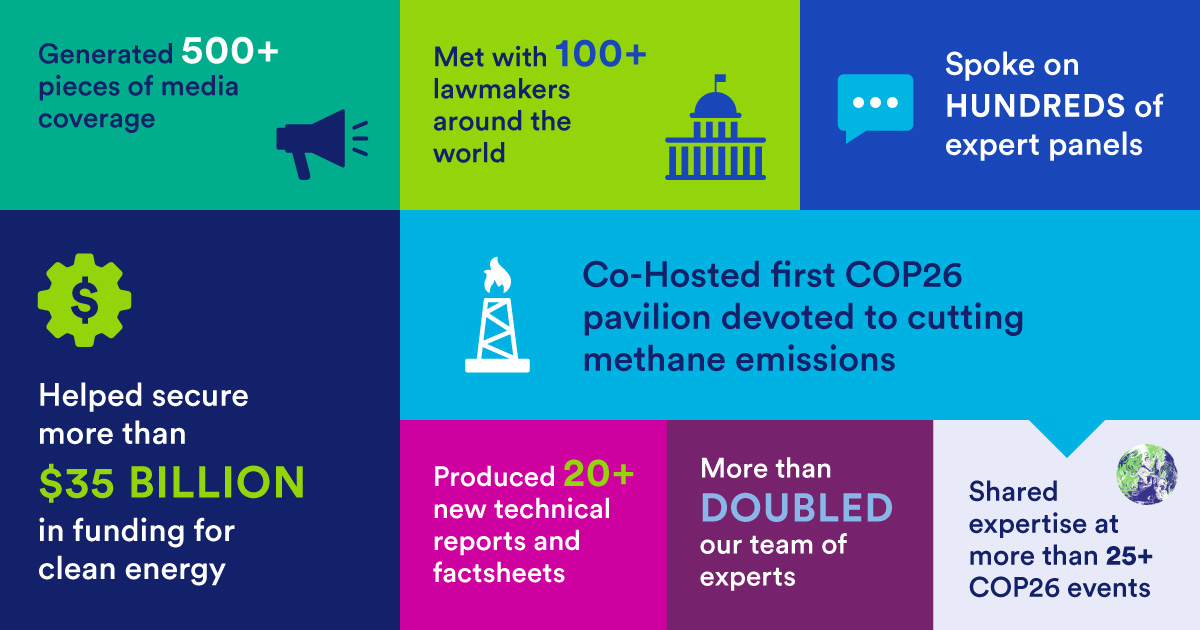 In 2022 the CATF plan to expand their work in Africa and the Middle East while also pioneering new research on geothermal energy and 'SuperHot Rock', a breakthrough new energy source that mines heat from below the earth's surface to produce electricity without extracting any carbon.
Marine Conservation
2021 began with a high for marine conservation activists after a campaign from Blue Marine Foundation led to the government announcing a commitment to protect the Dogger Bank, a large sandbank in a shallow area of the North Sea, and other offshore Marine Protected Areas (MPAs) from destructive fishing practices. BLUE's legal team are working hard to ensure those commitments are upheld and the sites are effectively protected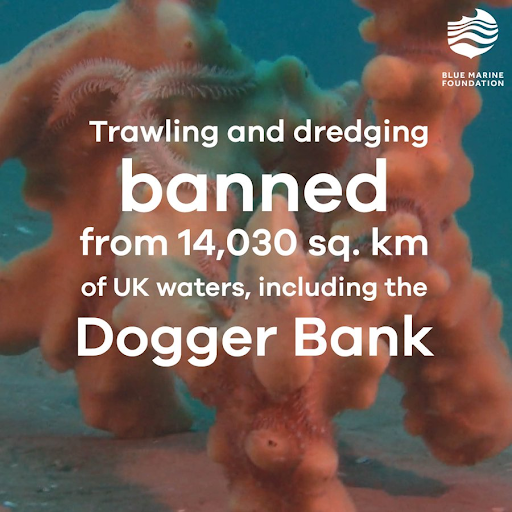 2021 was also the 'year of the oyster' at BLUE, with the Solent's first oyster restoration reef created in Langstone Harbour, and 4,000 native oysters placed in oyster nurseries in marinas across the UK. 2021 brought global awareness to the importance of 'blue carbon' in climate mitigation and in Ascension, a 445,000 sq km MPA was created, closing the area from large-scale commercial fishing.
Surfers Against Sewage organised the #MillionMileClean, reconnecting communities with blue and green spaces after lockdown and raising awareness about the scourge of plastic pollution. Over the last year the campaign, SAS
Engaged 140,000 volunteers
Delivered over 4,000 organised community cleans
Removed over 320,000kg of pollution from over 1.2 million miles of rivers, beaches and countryside
Provided unique citizen science data on plastic pollution.
SAS's Brand Audit report called out the #DirtyDozen brands responsible for the UK's packaging pollution crisis. The report received widespread news coverage and helped raise awareness of the need for an 'all-in' Deposit Return Scheme for the UK.
Forest Conservation
Primary forest loss grew by 12% to 4.2 mln hectares between 2019 and 2020. While the data for 2021 isn't available yet, some evidence suggests that the Brazilian Amazon is on track to become a net source of carbon emissions. More reassuring studies suggest that tropical forests may be able to partially regenerate in just 20 years (without human interference).
The importance of maintaining tropical forests grew in prominence on international agendas. At COP26, world leaders convened to create the Glasgow Leaders' Declaration on Forests and Land Use — a commitment to "working collectively to halt and reverse forest loss and land degradation by 2030, while delivering sustainable development and promoting an inclusive rural transformation". And in September, a group of philanthropists put together a combined $5 bln to "support the creation, expansion, management and monitoring of protected and conserved areas of land, inland water and sea".
The World Land Trust had a successful year. In 2021 they launched their first appeal to protect lion habitats, tripled Guatemala's Laguna Grande Reserve, established the Belize Maya Fores, created new wildlife corridors in Borneo and 49,000+ acres of community reserves in Tanzania, and protected the home of the rediscovered Antioquia Brushfinch in Colombia. This year alone, 139,470 acres have been saved and 115,758 native trees have been funded across their programmes.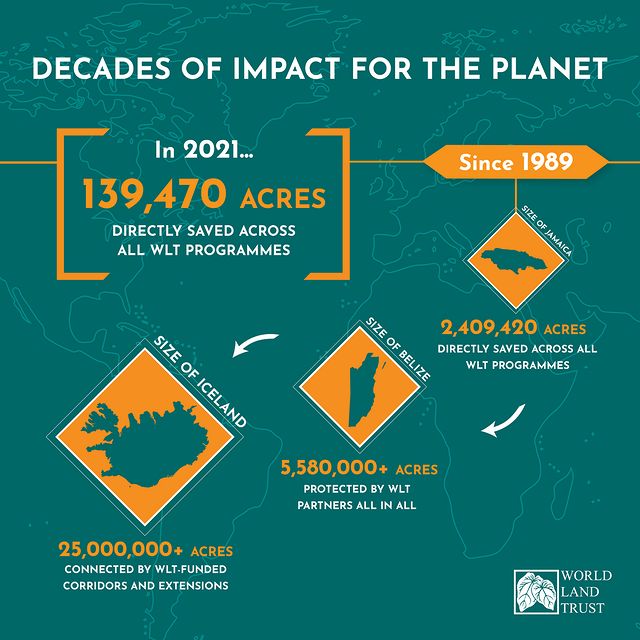 Climate-Resilient Communities
2021 confirmed what we already knew — that climate, biodiversity, and human health are fully interdependent.  As we enter 2022, water scarcity continues to impact billions, while potentially threatening even greater numbers as elevated temperatures prevent snowfall and water flow, and freak climate events threaten key infrastructure, as seen in the Philippines recently.
Conversations about protecting the most vulnerable and developing space-specific infrastructure remains under-discussed. But there's evidence that context-specific, ecosystem enabling approaches are gaining traction. In December 2021 the World Bank announced a new $700 million project to build a climate-resilient landscape in Nigeria — increasing sustainable landscape management practices and addressing persistent water shortages.
Food & Agriculture
The plant-based industry continues to move from strength to strength as more people recognise the harmful effects current meat-rearing processes have on the climate. Between 2014 and 2019, the number of vegans in the UK quadrupled, and in January 2022, over 500,000 people signed up to the 'Veganuary' Challenge, double the figure set in January 2019.
Last year, The Good Food Institute helped draw our attention to transformative power of changing our consumption habits. The GFI have been investing in alternative seafood to help curb fishing related emissions and pollution and protect marine biodiversity. The GFI show that regenerative agriculture and alternative proteins can help increase biodiversity and conserve resources such as food and land for the future.
Regenerative agriculture also made its way to the mainstream in 2021, with more people recognising the importance of reforming agriculture to reverse biodiversity loss, generate more equitable food systems, and prevent even more environmental degradation. One trend to watch-out for in 2022 is a greater focus on hidden aspects of biodiversity — underground microbes, fungi, and pollinating insects, which all underpin nature-positive food production.
Education & Behaviour Change
When it comes to our personal consumption, it can be hard to feel empowered to live more 'sustainably'. Hubbub has played a vital role in developing clever solutions to promote recycling, upcycling and the circular economy. Over the past year Hubbub has helped redirect hundreds of tonnes of food waste from binning with its Community Fridge initiative.
Trees for Cities ended the year by planting eco-friendly edible gardens at primary schools in Cardiff and by engaging hundreds of volunteers to plant over 4,000 young trees at Yeading Brook Meadows in Hillingdon. Time in nature boosts not only physical health, but mental health too. A recent study shows that contact with nature in cities such as trees, sky, or birds, reduces feelings of loneliness by 28%.
COP26 set an ambitious agenda for climate action in the coming decade, but as ClientEarth has pointed out, it's not actually legally binding. The past few decades are direct evidence that world leaders cannot be trusted on their words alone. That's why ClientEarth's work is vital — they use the law to hold governments to their promises, challenge damaging decisions, and help shape the law to benefit the people and the planet. In 2021, ClientEarth: brought an end to Europe's biggest coal plant, sued the central bank of Belgium over its climate failings, expanded their community forestry work into Southeast Asia to defend some of the world's most important forests, and won the right for everyone to take the EU to court, enabling NGOs and individuals to more easily challenge environmental wrongdoing in court.
Here's to a continued increase in visibility and awareness of environmental issues in 2022. We're proud that our community is playing a small part in that, and excited to continue growing the movement!
If you want to help us kick off the year with a bang, consider inviting your friends here: