The Forever Chemicals
Sadly not a boy band
31st March 2023

Erin Lynch
It's been a big month for the 'Forever Chemicals', otherwise known as per- and polyfluoroalkyl substances (PFAS). PFAS are a large, complex group of manufactured chemicals valued for their non-stick and detergent properties. PFAS can be found in various everyday products such as non-stick pans, cosmetics, rinse aid, textiles, and a lot of paper and cardboard food packaging. They're also a major source of contamination in waterways across Europe, and a potentially very serious risk to human health.
Unfortunately, where PFAS are and what they're doing to our bodies and water systems is still not fully understood. In February of this year, The Forever Pollution Project was released to the public after a major collaboration and investigation by over 18 European newsrooms. Journalists from Le Monde, NDR, WDR, Süddeutsche Zeitung, RADAR Magazine, Le Scienze and others submitted and analysed over 100 datasets and FOIA requests to build a first-of-its kind map demonstrating the scale of contamination across Europe.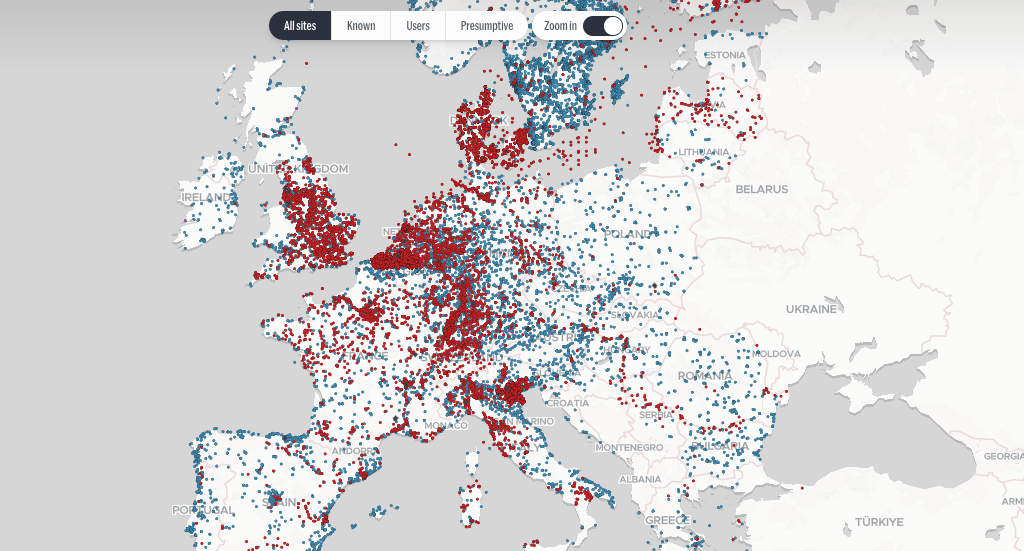 The researchers identified PFAS in over 17,000 sites in the UK and Europe, and located 2,100 sites where PFAS contamination was found to be hazardous to the health of exposed people. Sewage discharge, which we've discussed a lot here, is just the tip of the iceberg when it comes to water health.
Health Impacts
There are thousands of PFAS, but only two are regulated in the UK — PFOS and PFOA. Both have been linked to serious health issues. PFOA has been connected to kidney and testicular cancer, thyroid disease, ulcerative colitis, high cholesterol and pregnancy-induced hypertension, and PFOS has been linked with reproductive, development, and kidney disease. In mid March a new study found that forever chemicals could have a greater impact on fertility than initially feared. Researchers found that, of a cohort of women studied who wished to conceive, those who had several types of PFAS in their blood had a 40% lower chance of getting pregnant and delivering a live baby than women who did not have these substances in their blood. Another study, released in February by the US-based campaign group the Environmental Working Group (EWG), found evidence that PFAS are contaminating or potentially harming 330 species across the world, including polar bears, pandas, dolphins, birds, and fish.
Regulation at Home and Abroad
In the UK and abroad, activists are calling on the government to tighten regulations on water companies and introduce stricter drinking water levels and river quality standards. Currently, the Drinking Water Inspectorate's (DWI) guidelines state water companies should take action when drinking water is found to contain concentrations of PFOS or PFOA at or above the 100 ng/litre level. In comparison, in the US, their health advisory limits are 0.004ng/l for PFOA, and 0.02ng/l for PFOS. Yes, that is 25,000 times lower.
In an 'extraordinary' move this past month, the Environmental Protection Agency in the US announced its intention introduce the first (strict) regulatory standard limiting the quantity of PFAS in drinking water, setting legal drinking water standards for six of the most studied and toxic PFAS. The proposal builds on other steps the Government has taken, including a hefty $10 billion spent on addressing contaminants in the Bipartisan Infrastructure Law (BIL), and the EPA's earlier proposal to remove 12 PFAs from the list of inert ingredients approved for use in pesticide products last year. The proposed regulation is extraordinary because, if finalised, it will open the door to a wave of litigation against notorious PFAS producers and municipal utility companies who can now be held accountable for failing to reach key standards.
Still, there's resistance. A week after the EPA's announcement, the Financial Times reported that Intel and other semiconductor companies had joined together with industrial materials businesses to fight US clampdowns on forever chemicals. That's as more than 30 US states are said to have considered, or are considering legislation to address PFAS this year. The Semiconductor Industry Association has been fighting legislation in Minnesota that wants to ban products with certain PFAS by 2025. The Association argues the bill's measures are too broad and would prohibit thousands of products.
Pressure is mounting on UK lawmakers from every direction. The European Chemicals Agency is reportedly considering a proposal to restrict the manufacture and use of around 10,000 PFAS to regulate them as a class, reduce emissions, and improve the safety of consumer and industry products, across supply chains. At the same time, the EU launched two public consultations on the issue this month too, and some think the EU is considering an outright ban on 'forever chemicals', in a move that would be seismic for industry.
Innovation
Outside of lawmaking and breaking, researchers have been exploring other avenues to help overcome the threat of PFAS contamination. In late March an astonishing development emerged from Canada when a team of scientists at the University of British Columbia announced they had developed a new silica-based absorbing material that can trap and hold a wide range of PFAS from water supply. The team was then able to use special electrochemical and photochemical techniques to destroy the PFAS. "Think Brita filter, but a thousand times better', " said Dr. Majid Mohseni, Professor of Chemical and Biological Engineering, who led the study.
Addressing PFAS will require investing time, money and energy across their lifecycle. It's vital we put pressure on lawmakers to monitor, analyse and understand where PFAS are and how they impact us and the environment, as well as the economy. It's also vital that we support journalists and scientists who bring these issues to our attention and develop innovative solutions. As this issue rapidly develops, we expect more significant changes to emerge in the coming months.
Good Tythings
Carbon Reduction
The Clean Air Task Force just released 'Zero Emission Long-Haul Heavy-Duty Trucking', a valuable report that used first-of-its-kind analysis to compare the operational performance of hydrogen fuel cell vehicles (FCEV) and battery electric vehicles (BEV). Decarbonising transport, and in particular long-haul trucking is crucial. In the UK, transportation produces 24% of the UK's total emissions, making it the largest polluting sector. While HGVs only account for 6% of the road vehicle miles travelled within the UK, their emissions are disproportionately greater at 19%, mostly due to their size, weight, and longer distances travelled.One of the biggest technological barriers to shifting HGVs away from fossil fuels is related to the size and weight of on-board batteries required for full-electrification. This makes it much harder than electrifying smaller vehicles, for instance.CATF's analysis found that FCEVs required fewer stops than BEVs (3 versus 8) and had more room for cargo. Moreover, FCEV refuelling technology is similar to existing diesel refuelling technology, making for fewer issues in transition.BEVs face other challenges in uptake at scale, such as the high demand that charging station electric power requirements might cause to the grid. While BEVs did outperform FCEVs in terms of fuel-economy and energy efficiency, its range was more limited. Range could be extended with a larger battery, but that would increase weight and decrease cargo capacity even more. On the whole, FCEVs seem to have the comparative advantage. Still, FCEVs are still not perfect and will require more research and development to achieve similar refuel times to diesel, and to improve on cargo capacity (despite its comparative advantage against BEVs). More research needs to be done for both technologies into the cost of uptake. That said, this research should give policymakers confidence that FCEVs offer a good solution to the effective decarbonisation of the long-haul heavy-duty trucking.
A new study published in Nature Climate Change has highlighted how a balanced portfolio of carbon dioxide removal (CDR) approaches is essential if we are to effectively limit global warming to below the 1.5°c level set at the Paris Agreement. The science community is largely in agreement that CDR will be essential to limit global warming. But given the relative infancy of the sector, not too much is known about how different CDR approaches might interact with land, water, and energy systems. The impact of some CDR approaches, such as planting trees and other land-based measures, is easier to predict. However newer technologies, such as direct air capture with carbon storage (DACCS) and enhanced weathering (EW) are more challenging. The researchers found that phasing down fossil fuels and hedging against over-reliance on any one CDR pathway can reduce risks.
Marine Conservation
The UN has agreed on a historic treaty to protect ocean life. The High Seas Treaty, or BBNJ (Biodiversity Beyond National Jurisdiction) will provide a legal framework for governing the sustainable use and conservation of the 'high-seas', that is, areas of the ocean that lie outside any one nation's jurisdiction. These international waters make up 64% of the global ocean, and cover 46% of the Earth's surface. Only 1.3% of these waters are currently estimated to be protected.
For a long time, The High Seas have been poorly governed by a 'fragmentary patchwork' of international agreements covering everything from avian biodiversity to deep sea dredging. In March 2022, representatives gathered to negotiate a treaty, but failed to reach a consensus. Another effort in August similarly failed. This new treaty represents the culmination of decades of planning, negotiation and compromise.
While the full text is not yet available, the treaty contains several key provisions including
A legal framework for the establishment of marine protected areas (MPAs)
A framework for signatories to share in the profits of any commercial product derived from the high seas
A mandate for programmes to strengthen marine research in developing countries
An eye-witness account published by science writer Jeffrey Marlow gives a fascinating perspective on both the process of treaty creation, as well as the disagreement that gets left behind by the final text. Marlow noted that there aren't many specific provisions, something he said diplomats might call 'constructive ambiguity', providing space for future initiatives. Writing in the Guardian, Guy Standing called the treaty a 'triumph', that will 'need teeth to be effective'. Still, Marlow reports one delegate as saying  'the moral and political weight' of these agreements will 'resonate far into the future'.
Charles Clover, Executive Director at Blue Marine Foundation congratulated the negotiators and said
"The treaty is essential if we are to protect 30 percent of the ocean by 2030.  The negotiators have resolved the stickiest issues, for once, in their decade of talks so countries don't have an excuse not to deliver now."
Surfers Against Sewage is calling on the public to help bring an end to water companies profiting while polluting and sign their petition.
Not-for-profit water companies aren't doing much better. Izzy Ross, campaigns manager for Surfers Against Sewage called out the Chief Executive of Dŵr Cymru Welsh Water Peter Perry for earning £332,000 before bonuses and pension contributions in 2022. According to Ross 'Perry is profiting from pollution unashamedly. Welsh Water can't justify these enormous pay packets whilst continuing such poor performance. Instead of lining their CEO's pockets, Welsh Water should be investing in infrastructure to protect the environment, not continuing to spew sewage into treasured Welsh waterways."
Despite being a 'not-for-profit', Welsh Water has been under fire in recent years for excessive executive salaries and consumer price hikes. Since announcing a raise in water bills by £14 in February, Welsh Water now has the second highest water bill in Wales and England.
In the period 2020-2021, there were over 100,000 sewage spills in Welsh rivers. At the same time, three Welsh Water bosses (Perry, Mike Davis, and Chris Jones) were collectively handed bonuses worth £931,000. As a consequence, Welsh politicians have called on the Welsh and UK governments to ban bonuses until the sewage crisis is resolved.
Forest Conservation
A rare songbird not spotted for 24 years has been found in the tropical forests of northeastern Madagascar. The dusky tetraka is listed as one of the top 10 most-wanted lost birds, an initiative by the Search for Lost Birds collaboration between Re:wild, the American Bird Conservancy, and Birdlife International. Their aim is to inspire birders and conservationists to look for the species. Lily-Arison Rene de Roland, Program Director for the Peregrine Fund said the discovery would help conservationists better understand the bird's ecology and habitat, which in turn would teach them how to better protect the species.
A new lawsuit, filed by Comissão Pastoral da Terra and Notre Affaire À Tous against BNP Paribas claims the French banking giant provides funding to meat producers that purchase cattle from illegally deforested land. BNP Paribas has additionally been accused of denying access to its information about supply chains, and refusing to monitor its indirect suppliers of beef. The litigants cited a study from the Center for Climate Crime Analysis that seemed to show that two slaughterhouses owned by Marfrig showed ties to suppliers responsible for more than 300,000 acres of deforestation between 2009 and 2020. Meat is one of the leading drivers of deforestation in the Amazon, and a significant source of methane emissions.
This is the second lawsuit that BNP Paribas is facing this month, after Oxfam, Friends of the Earth and Notre Affaire à Tous accused the Bank of giving loans to BP, Chevron, ExxonMobil and Shell in contravention of French due diligence (Duty of Vigilance Act) law.
Climate Resilience
In recent years, the Amazonian forests have experienced a higher frequency and intensity of droughts, causing carbon sink and biomass loss. An intriguing new study found that areas of the Amazon with a higher concentration of soil pyrogenic carbon have increased resistance to drought. Areas with higher percentages of the compound, generated by the burning of vegetation centuries or millennia ago, have higher soil fertility and water-holding capacity, meaning they can recover more quickly from droughts and other extreme weather events.
The precise mechanism behind this phenomenon is not yet fully understood, however the researchers believe their results could help us understand the long-term impact of recent droughts and fires.
Sand Dams Worldwide have released a new video series discussing the impact of their work with Clemence and other community members and volunteers from Muthini Upendo in Kenya where the organisation recently built a dam.
Sand dam expedition - meet community member Clemence Wakio
In sub-Saharan Africa, 95% of farmers primarily rely on rainfall for irrigation. As a consequence, climate change and extreme weather events  can have a devastating impact on crop yields and livelihoods. We saw this recently in Malawi, where the longest-lasting tropical storm on record killed hundreds and caused immense destruction.
A new report from the NGO CLASP found that Solar-Powered Irrigation Systems (SPIS) build communal resilience to the effects of climate change, while delivering socio economic benefits to farmers and community members through increased crop yields and incomes. Despite positive results from Kenya, uptake remains low. The study identified key strategies NGOs and other interested parties can take to increase uptake and success. These include
Standardised quality standards.
Innovative end-user financing solutions which match product repayment to crop harvesting cycles to reduce loan default rates.
Simple technologies that require minimal behavioural change by end-users and can be integrated easily into existing farming practices.
Food & Agriculture
Robert Barbour from The Sustainable Food Trust wants to see pigs eating swill again, and argues in a powerful new think-piece that it's the best thing for human and planetary health. Swill, essentially kitchen scraps, got a bad rep after it was blamed for the outbreak of the catastrophic Foot and Mouth Disease outbreak in the early 2000s. To this day, the UK and EU's subsequent ban on feeding food waste to pigs stands (unless it could be guaranteed to have not had contact with meat).
Barbour thinks it's time this changed. Soaring feed costs as well as a pressing need to address the environmental harms caused by pig production has led to a recognition that perhaps things could, and should change. Other countries such as Japan and South Korea have reintroduced the practice to great success.
Today, pigs rely on grain and soya for their feed. Not only is this expensive for farmers and consumers, more than three quarters of the carbon footprint of the British pork industry relates to feed, in large part because of nitrogen fertilisers sprayed onto grain crops. All livestock digest human-edible crops inefficiently, which is an additional layer of wastefulness. One study shows that replacing just 10% of pig and poultry feed with food waste could reduce habitat destruction and GHG emissions by more than 30% and 15% respectively.
A new hurdle in the alternative protein industry was just overcome as Good Meat received regulatory approval to sell its product in the US. This is the second time a cultivated meat product has got the green light from the U.S. Food and Disease Administration, and the first time a company has received regulatory approval on multiple continents. The company has been selling its product to consumers in Singapore since 2020.
Want to know how fish can be made…from scratch? (Or well, from stem cells?) Good Food Institute's Claire Bomkamp sat down with Alice Sun from Science Line to discuss the processes behind cultivated seafood.
Education & Advocacy
Action for Conservation have opened applications for their series of Free Summer Camps for kids aged 12-16. It's a chance for young people to explore nature and their self development. The camp will be packed with conservation activities, careers advice, and adventure activities. The application is relatively simple and gets applicants to answer a question about an environmental issue important to them. Apply by Sunday 7th May!
Following up from last month's spotlight on ClientEarth's Shell Litigation, ClientEarth lawyer Paul Benson appeared on BBC World Service's Climate Question to discuss the reasons behind the lawsuit.
Earlier this month, in Europe, the EU Court of Justice ruled that the Bulgarian government violated the law when it gave a coal plant permission to pollute beyond legal limits. ClientEarth supported Greenpeace Bulgaria and Za Zemiata.
Finally, on 31st March, the UK Government's deadline for updating its Net Zero Strategy will arrive. This follows a successful court case last year from ClientEarth, The Good Law Project and Friends of the Earth.